BATHROOM REMODELING SERVICES
Remodeling any room in your home can turn into a nightmare if you don't choose the right contractor. Our goal is to make your bathroom remodeling project as painless as possible for everyone involved. No project is too big or too small for our experienced team. We enjoy the challenges and victories involved in the remodeling process.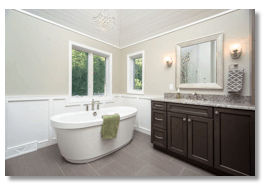 The bathroom is one of the most visited rooms in the home; it must meet the needs of people of all ages. It's often the first room we visit in the morning, and the last room we visit at night. It must be well-designed and well-built to meet your family's specific needs. Every bathroom remodeling project is different, because every family's needs are different.
We understand that the decision to remodel any room, especially your bathroom is a big one. You are the only person who truly understands exactly what you envision for your newly remodeled bathroom. Our goal is to create the bathroom of your dreams based on the information you provide along the way.
You will be included in every decision during the remodel process so that there are no surprises at the completion of the project. Our experienced team understands that your bathroom must be completed in a timely manner with minimal disruption to your home life, and on budget.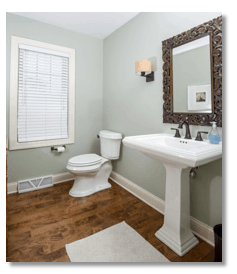 We look forward to the opportunity to work with you. Call us today to schedule an in-home consultation.